Favorite Louisiana Foods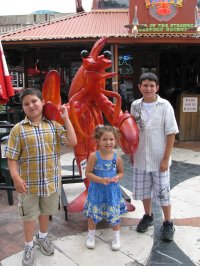 Louisiana Foods! What are your Tastebuds asking for?
There are hundreds of Foods that will make your mouth water. Each food has it's own special history and early beginnings. It all depends on your taste. Do you like Cajun or Creole food? Do you like spicy foods? The most important question is : Do you love Seafood? Most people have a hard time choosing their favorites, however, below are the overall favorite and most popular Foods in Louisiana and maybe the world.
---
Jambalaya is my favorite Louisiana food. Jambalaya originated in southern Louisiana by the Cajuns around the bayou where food was scarce. The word is said to be a compound word of Jambon from the French meaning ham, and Aya meaning rice. Jambalaya can be different as it incorporates seafood, ham, link sausage, and chicken, although it doesn't have to have all those ingredients. It can be made (separately or all together) with ham, chicken, sausage, fresh pork, or seafood to which is rice, onion, garlic, pepper and other seasonings are added.
All you need to know about jambalaya


---
Gumbo is another great creole favorite. Gumbo is the most famous of all Louisiana foods. Gumbo is one of the oldest dishes in Louisiana, it has become as much of a cultural symbol of Louisiana as jazz. It is the signature items in many restaurants and a staple in most family celebrations.
Gumbo is a thick, dark soup containing a mixture of rice, vegetables, and meat or seafood. When it comes to ingredients, the one constant in gumbo is variety. In fact, the term "gumbo" is often used in slang parlance to mean a mixture of anything and everything, though many Cajuns insist that it may only contain those creatures that run, swim, crawl, or fly. One seemingly may add whatever is available in one's kitchen to a pot of gumbo. The vast majority of gumbos fall into one of three categories: Seafood Gumbo, Chicken and Sausage Gumbo, Okra and File' Gumbo.
To learn more about your favorite Gumbo click here.


---
Etouffee is a Cajun dish typically served with seafood or chicken over rice. The main ingredient of an étouffée is seafood such as crawfish, shrimp, or crabmeat. Chicken could also be used with the combination of seafood.
The base of an étouffée is either a dark brown-red roux, a blonde roux (a roux that isn't browned as much) or simply onions cooked down in butter. Like many Louisiana foods, onions, green peppers and celery (a combination often referred to as the holy trinity) form the base of an étouffée. It is usually seasoned with cayenne pepper, white pepper, garlic, and salt and has a thicker consistency than gumbo. Etouffee' is perfected in family kitchens and restaurants where it is held to exacting standards. There are certain aspects of the recipe that must be followed to make a great etouffee.
Click here for Etouffee 101.
The One Stop Shopping for All Your Louisiana Products


---
What is your Favorite Louisiana Food?
Please Tell us what is your favorite Louisiana Food or Recipe. The food that you can not live without it.
Other Visitors Favorites
Click below to see contributions from other visitors to this page...

Boiled Crawfish Not rated yet
I love me some hot and spicy boiled crawfish. Even the look of them on the table with some potatoes, asparagus, artichokes, sausage, corn, YUM!!
Great Links to food from around the World.
The Italian Cook- Recipes, information on Italy, italian cooking and authentic Italian food. You will find Italian recipes including pasta, pizza, antipastos, bread, veal recipes, seafood, italian desserts and much more.
---
Custom Search