About Us
---
Louisiana Tastebuds was an idea I gathered while thinking about how many different Louisiana products are on the market. I started to think about all the different recipes and dishes both cajun and creole. Then I thought about how many people that live outside Louisiana that never have a chance to taste our great food. Louisiana Tatsebuds was born with that concept. It is a site designed to give people outside of Louisiana a chance to learn, experience and actually buy Louisiana products. Once you have tried our cajun food nothing else matters.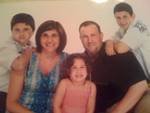 I was born in New Orleans and have lived in Southeast Louisiana my whole life. I have grandparents that were from Bordelonville, Louisiana which is located in the heart of cajun country and Lake Charles, Louisiana, which is located in the southwest poertion of the state.
I can remember Nana always cooking a great meal at family get togethers. There was not a dish that she did not have a recipe for. All of her recipes have been passed down to other family members through the years. I learned my love for food from my family. There is nothing better than to sit down with the ones you love and enjoy a great cajun meal.


Great memories are made at Crawfish boils tor Thanksgiving dinners and our family dishes make it even more enjoyable. My wife is also from Louisiana and her family has the same love for food, but they have an Italian cajun background which makes the variety of dishes even better.
I was really surprised in 2005 to find out just how bland food was in other parts of the states. It all started when we had to evacuate for Hurrican Katrina which was only suppose to be for a couple of days which turned into weeks. The problem was when we returned home all of our family and neighbors had the same issue. They could not find any good food. Wheter it was Houston, Dallas, Little Rock, New York, or even Boston. That really cemented just how fortunate we are to live in Louisiana besides hurricanes. I want share all of our great food and recipes with anyone who has a desire to learn about cajun food. I hope you enjoy our website and please pass it on to anyone who loves food. If you have any suggestions or ideas please contact us.



Just because someone says it, doesn't make it true. However, unscrupulous competitors can be very convincing. To learn about the Solo Build It Scam, and how SiteSell has had to battle unethical black hats onlne, follow that link.