Seafood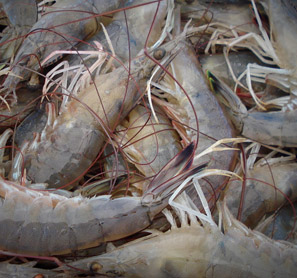 Louisiana Seafood is known around the world for taste, quality and variety. When you enjoy seafood at home or in a restaurant, chances are excellent that it's from Louisiana. Nearly 1/3 of the seafood consumed in the United States comes fresh from our waters. Louisiana is the number one provider of shrimp, oysters, crab, crawfish and alligator production in the USA.
Seafood is an important part of life in Louisiana. The traditions of catching, cooking and eating seafood are are a major part of Louisiana life. Our ancestors had to live off the natural resources from the Gulf of Mexico to the surrounding lakes just to survive. The best restaurants in the world reside in Louisiana and those chefs know fresh Louisiana seafood has no equal.
When you choose Louisiana Seafood you're supporting the traditions, lifestyles and environment that have sustained the people of Louisiana and fed the nation for centuries.
Louisiana seafood tastes better because it is fresher. The product has a very short distance to travel from the water to your dinner table. It can not get any fresher than that. There is nothing better than buying fresh seafood off the side of the road that was caught today,
Louisiana leads the nation in crawfish production, more than 90% of the crawfish we eat come from here.
-70% of the Oysters caught in the US are from the Gulf Coast.
-each year Louisiana shrimpers catch 90 - 120 million pounds of both brown and white shrimp.
Louisiana leads the nation in production of both hard and soft-shell crabs.

Seafood is an important part of a well balanced diet. Seafood is a great source of high-quality protein, is low in saturated fat, and is rich in many vitamins and minerals. Seafood is the source of most of the omega-3 fatty acids, EPA and DHA, found in the American diet.
The heart-healthy benefits of seafood are so pronounced that the American Heart Association recommends at least two servings per week. Studies show that people who eat seafood may be less likely to suffer from bipolar disorder and it can also help an individuals' battle with depression.
The #1 reason that Louisiana seafood is loved across the entire US is due to the variety of our products. There are hundred of seafood products that are caught daily and delivered to our restaurants, grocery store, and markets. Below is a summary of all Louisiana seafood products:

Crawfish

Crabs

Shrimp

Fish

Oysters

Alligator


Other Domestic Seafood
---
The United States offers many different varieties of seafood from Alaska to the Northeast. It is very different than Louisiana seafood, but has it's own special taste. I have traveled to Boston and ordered a seafood platter. The problem was I was expecting shrimp, fish, oysters, and softshell crabs. However, the platter included squid, sole, clams, and scrod. I didn't know what to expect, but the dish was excellent. I have ordered seafood froma variety of sources througout the United States. Below are excellent companies that I highly recommend when choosing other seafood:
All Fresh Seafood As highlighted in Zagat Survey's, the Daily News & MAXIM, All Fresh Seafood Inc. has been successfully operating a wholesale fresh seafood business in the New York and New Jersey area for nearly 2 decades. They service 400 of the top restaurants and private clubs in the area. They have developed a loyal customer base and had filled a missing link in the fresh seafood wholesale industry - a company that is dedicated to the highest quality service, seafood products and selection. They continuously search the world for hard to find, unique seafood items. They quickly earned a reputation with the areas highest rated chefs and restaurateurs as the seafood company that could not and did not say no. If it swims we find it!




SAVE 50% ON SHIPPING FOR ALL ORDERS (Limited Time Offer)






What is your Favorite Seafood Restaurant in Louisiana?
Do you have a favorite Seafood Restaurant? Please tell us all about it. What is your favorite dish?
Other Visitors Favorite Seafood Restaurants
Click below to see reviews from other visitors about their favorite seafood restaurant

Drago's Not rated yet
Drago's is my favorite seafood restaurant. I love the Char-broiled Oysters with that unbelievable garlic butter sauce. I am really no fan of raw oysters, …
---