Shrimp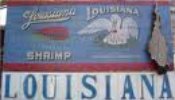 Louisiana shrimp are the best tasting seafood in the entire world. Each year Louisiana fishermen catch 90 - 120 million pounds of both brown and white species.
They are a good source of cardio-protective omega-3 fatty acids, noted for their anti-inflammatory effects and ability to prevent the formation of blood clots. Individuals whose diets provide greater amounts of omega-3 fatty polyunsaturated fatty acids have lower blood pressure than those who consume less. They also provide omega-3 fats, which have been found to greatly reduce risk of colorectal cancer. They are low in saturated fat and is a very good source of protein, selenium, and vitamin B12.

They are boiled, fried, stewed, in a Creole sauce, an etouffee, stuffed with breadcrumbs and rice, and found in the gumbos and jambalayas of South Louisiana. This tradition has a long history in Louisiana.
Two types of fishermen in coastal Louisiana; those with the smaller vessels in the inland bays and shallow water zones and those with larger vessels which work offshore in federal waters. The inland fishermen operate during seasons regulated by the Louisiana Department of Wildlife and Fisheries.
The Louisiana Season is monitored by the Louisiana Wildlife and Fishersies Department. The season is open when they believe the species are at the appropriate size. The season usually opens in early May. The Gulf waters are divided into zones and each zone could open at a different time.
Info on Louisiana Shrimp Seasons

The best time to buy them is during the season when you can get them fresh out of the water. If you live in Louisiana you can buy them off the street from the back of a pickup truck. They are fresh because they were caught earlier in the day. The price will also be cheaper because you are bypassing the middleman.
My Favorite Recipe
---
BBQ Shrimp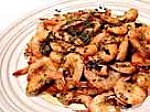 1 lb. shrimp, washed and drained
1 lb. butter
Slap Ya Mama Seasoning
3 tsp. Rosemary
1 tsp. garlic salt
1 tsp. crab boil
Melt butter and mix in spices and lots of pepper. Line pan with shrimp, do not overlap them. Pour butter/spice mix over. Broil in hot broiler for 20 minutes, stirring occasionally. Serve with French bread.Enjoy


Want to try a greta shrimp recipe?




---