Jambalaya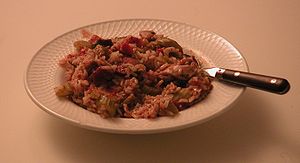 ---
History
Creole Jambalaya originates from the French Quarter of New Orleans. In modern Louisiana, the dish has evolved along a variety of different lines. The Creole dish, is found primarily in and around New Orleans. The Creole recipe includes tomatoes, whereas the Cajun recipe does not.

Cajun Jambalaya originates from Louisiana's swamp country where crawfish, shrimp, oysters, alligator, duck, turtle, and other wild game were readily available. Any variety or combination of meats, including chicken or turkey may be used. The Cajun dish is known as "Brown Jambalaya" in the New Orleans area; to Cajuns it is simply known as "Jambalaya." The Cajun dish has more of a smoky and spicy flavor than the Creole version.
---
How to Cook
Jambalaya is traditionally made in three parts, with meats and vegetables, and is completed by adding stock and rice. There are two major recipes for making this dish. First,is Creole recipe. First, meat is added, usually chicken, pork, and sausage such as andouille or smoked sausage. Next vegetables and tomatoes or tomato sauce are added to cook, followed by seafood. Rice and stock are added in equal proportions at the very end. The mixture is brought to a boil and left to simmer for 20 to 60 minutes, depending on the recipe.

The second recipe that is from southwestern and south-central Louisiana, is the Cajun version, which contains no tomatoes. The meat is browned in a cast-iron pot. The bits of meat or pork that sticks to the bottom of the pot are what gives a Cajun Jambalaya its brown color. A little vegetable oil is added if there is not enough fat in the pot. The mixture of 50% onions, 25% celery, and 25% green bell pepper is added and sautéed until soft. Stock and seasonings are added in the next step, and then the meats are returned to the pot. This mixture is then simmered, covered, for at least one hour. Lastly, the mixture is brought to a boil and rice is added to the pot. It is then covered and left to simmer over very low heat for at least 1/2 hour without stirring.

---
Types
There are many different types of Jambalaya. Below I will give you a few ideas for an interesting meal:
- The Seafood recipe can consists of any seafood. The most popular recipes contain shrimp, crawfish, crab, and oysters.
-Alligator is a hidden gem that most people have never ate.
- Catfish is another dish that is very seldom heard of. The recipe calls for fillets of catfish to be cut in pieces and cooked in place of the meat. It has a very unique taste and is defintely worth a try.

-Andouille and Chicken is a local favorite. Andouille is a coarse-grained smoked meat made using pork, pepper, onions, wine, and seasonings. Andouille is a spiced, heavily smoked pork sausage, distinguished in some varieties by its use of the entire gastrointestinal system of the pig: for example, traditional French andouille is composed primarily of the intestines and stomach. This recipe uses both andouille and chicken as the main ingredients.
-Pastalaya has become very popular with the baby boomers. Pastalaya is actually Jambalaya with pasta used instead of rice. All the other ingredients remain the same. There are also many other variations to the pastalaya recipes including seafood, chicken, and sausage.
---
Best Prepackaged Brands
There are many different brands that can make cooking a snap. These box dinners are very easy to use. They contain all the seasonings you will just have to add sausage, chicken, or pork. It is easy as browning your meat and putting the meat, contents of the package and 3 cups of water into a rice cooker. A great meal will be finished in about 20 minutes. Below are the best prepackaged Jambalaya mixs available on the market:

Zatarain's Mix

A delicious traditional New Orleans dish made with rice, spices and your choice of meat or seafood (or both). Each package plus one pound of meat or seafood makes six cups with a total preparation time under 30 minutes. Most popular on the market.



Oak Grove Smokehouse Creole Mix

A delicious traditional Louisiana dinner dish made with rice, spices and your choice of meat or seafood (or both). Each package plus one pound of meat or seafood makes six cups with a total preparation time under 30 minutes. Great for a family with children- very mild, but good seasoning



Tony Chachere's Creole Mix
You don't have to be Cajun to make this at home. Just use your choice of meat and Tony Chachere's Mix and in just a few minutes you'll be enjoying one of the dishes that made Louisiana cuisine famous.



Mam Papaul's Jambalaya Mix
Louisiana's most famous rice dish, a flavorful combination of rice, a special blend of seasonings, and a variety of seafood and/or meats. Prepared without tomato sauce, Mam Papaul's is a beautiful brown Cajun dish. This famous Louisiana specialty can be a treat for everyone.




---
More of Louisiana Favorite Foods



---