Gumbo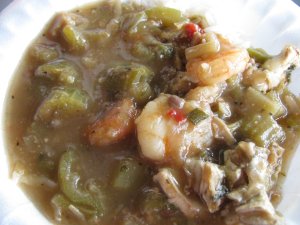 ---
History
Gumbo is a stew or soup originating in Louisiana. It consists primarily of a strong stock, meat or shellfish, a thickener, and the vegetable "holy trinity" of celery, bell peppers, and onion. Traditionally, one of the key ingredients has been okra. It is traditionally served over rice.
The recipe was created by the French in New Orleans, but was enhanced by additions from other cultures. It is the result of the melting of cultures in Louisianan history. The dish has its origins in the meeting of cultures that occurred in Louisiana during the 18th century. French cooking techniques provided the beginning with bouillabaisse. The native Choctaw's filé powder and local seafood were a major addition to the local cuisine. Imported okra found its way into the Louisiana kitchens, and provided the dish with its name. Bell peppers, tomatoes and cooked onions were brought to the table by Spanish colonists.
---
Types
There are three different categories of gumbo: those thickened with okra, those thickened with filé powder, and those thickened exclusively with roux.
Cajun and Creole recipes are two specific types from different areas of Louisiana. Creole dishes generally use a lighter roux and include tomatoes, while Cajun dishes are made with a darker roux and never contain tomatoes.
The following are some common gumbos that are found in Louisiana:
Seafood, with crab, shrimp, crawfish, and/or oysters. Often supplemented with tasso or andouille
-Filé (Often seafood or Chicken & Sausage)
-Chicken and sausage
-Crawfish
-Squirrel
-Rabbit
-Alligator(sausage substituted with alligator sausage)
-Andouille




---
Best Prepackaged Brands
This cuisine can be made by anyone. There are very complicated recipes and easy to use prepackaged base products. When you are preparing your meal there are any number of ingredients that you can use. There is no exact recipe. I can rememeber my Grandmother using whatever she had in the freezer. It could be shrimp, crawfish, okra, sauasage, chicken, or even wildgame. It all depends on what you feel like eating. The most difficult part of the dish is making the base or the roux. There are excellent prepackaged roux base products and even a few gumbo mix products. Below are the best products that are available:
---

Mam Papaul's Mix with Okra is the New Orleans version of this great recipe: a rich soup which consists of roux, okra, spices, and meat or seafood.It is a New Orleans favorite! Makes a wonderful seafood recipe, use shrimp and crabmeat over rice for a great dinner. The best on the market.



LOUISIANA Fish Fry Proudcts® Cajun Mix You don't have to be Cajun to make great dish anymore. Our Mix does it all for you! Add your own fresh sausage, seafood or chicken, serve over rice and enjoy. Cooks in 25-30 minutes.



Oak Grove Smokehouse Base you get everything you need to make a wonderful tasting roux in under an hour! For a delicious dish simply add your choice of meat or seafood and rice to this seasoning blend for the hearty soup of the bayou land in only 30 minutes



Zatarain's® New Orleans Style Base (No Rice) Purists know that gumbo is traditionally cooked without rice, and is then served poured over rice. This base prepares nine cups by this traditional method. You'll need 1 to 1 1/2 pounds of seafood or meat plus some...



Zatarain's® File Made from the dried leaves of the sassafras tree, fil® is the essential seasoning for your recipe. Shake a little on top just before serving as a delicate seasoning and thickener. The American Indian gave us File Powder which is produced from the leaves of the native...



Kary's Cajun Creole Roux for Gumbos & Stews Pre-made instant roux mix is becoming popular as a way to quickly save time while preparing a gumbo or stew but without the feeling of a tired arm from stirring. Kary's will cut your preperation time in half and allow you to focus your attention. The best roux on the market.



Tony Chachere's® Creole Instant Roux Mix is ready in about 3 minutes. It is the secret for making the best tasting fat-free, oil-free recipes you've ever tasted.



Your one stop Gumbo Shop.
---
More on Louisiana Favorite Foods