Etouffee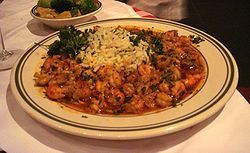 History
---
Etouffee is a Cajun dish served with shellfish or chicken over rice. It is most popular in New Orleans and in the bayou country of Louisiana.
The word literally means "smothered" or "suffocated, from the verb "étouffer".
The recipe is very simliar to gumbo, but there are some main differences. The term "gumbo" is defined as a mixture of anything and everything, though many Cajuns insist that it may only contain those creatures that run, swim, crawl, or fly. A pot of gumbo usually consists of anything in your freezer. That is where the term "gumbo" came from. On the other hand, Étouffées, is held to a much greater standard. This is why Chefs spend countless hours working to perfect their recipes.
How to Cook ?
---
Etouffee has a great distinct smell. The smothered crawfish, shrimp, or chicken give the aroma that will make your tastebuds water.
The usual recipes includes seafood such as crawfish, shrimp, or crabmeat. Other meats, such as chicken, or a combination of chicken and seafood, can also used.
The base is either a dark brown-red roux, a blonde roux (a roux that isn't browned as much) or simply onions cooked down in butter. Onions, green peppers and celery form the base. It is usually seasoned with cayenne pepper, white pepper, garlic, and salt and has a thicker consistency than gumbo.
A crawfish dish, if made with a roux, usually has a reddish color: this is sometimes mistakenly attributed to crawfish fat. Crawfish fat is bright yellow, and will not color the dish red: the red color comes from the dark brown-red roux. There is typically no tomato in this dish. However, in some areas it has become popular to add tomatoes or tomato paste to the dish.
Best Prepacakged Brands
---
Time and patience is a major factor when deciding to make an etouffee. Most families live a hectic life and although they would love to eat crawfish recipe once a week, there just is not enough time to perfect the recipe. There are a bunch of great products that are easy to make and have a delicious taste. Below are the best products as sampled by our family:



LOUISIANA Fish Fry Proudcts® Cajun A delicious blend of onions, bell peppers, celery and spices. Just add shrimp, crawfish or chicken, serve over rice and enjoy. Cooks in 25-40 minutes. Serves 4. Great recipe, but takes some time.



Tony Chachere's® Creole Sauce, Make delicious seafood Etouffee in minutes with Tony Chacheres Creole Sauce. Just add fresh shrimp, crawfish, or even chicken. The easy just open, add seafood and pour over rice.



Cajun Power® Louisiana Creole Crawfish / Shrimp Gravy , everyone enjoys getting together with family and friends for a good crawfish Étouffée. Our Crawfish recipe is one of our newest Fast, Easy, & So Good products. The best on the market.



Mam Papaul's Creole Sauce is a light sauce for crawfish, shrimp or even chicken. Crawfish etouffee is the most popular crawfish dish in Louisiana. Creole is a rich tomato sauce which is especially good cooked with shrimp or chicken.



Cajun King® Seasoning Mix can be made with Peeled Shrimp, Crabmeat, Crawfish, Lobster, Scallop, Langostinos, or Chicken, just as long as you use Cajun King




Looking for a Great Etouffee sauce


---