Seafood Sauces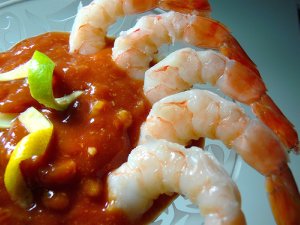 Seafood sauces in Louisiana are just as popular as the seafood itself. There are hundreds of recipes that you can you with any seafoood recipe. Some sauces are used as condiments that flavor to the seafood and some are used as a part of the recipe. There are also different cuisines that the sauces come from. We have creole sauces and cajun sauces. However, there is really not much of a difference except the creole sauces have more of a tomato influence. Boiled seafood is delicious with almosy all seafood sauces.

Tartar
---
Tartar sauce is a thick white sauce made from mayonnaise and finely chopped pickled cucumber, capers, onions, and fresh parsley. Chopped hard-boiled eggs, olives, and horseradish are sometimes added, and dijon mustard is often used as an emulsifier. It is frequently used to season fried seafood dishes. It can also be made by mixing commercially produced relish and mayonnaise. Vinegar can be added for a sharper flavor. The sauce is typically of a rough consistency. Tartar sauce is mostly used as a condiment for any type of fried seafood. It is the most popular of all seafood sauces.

Best Brand
LOUISIANA Fish Fry Proudcts® Home Style Tartar Sauce Lots of good relish, a dash of lemon and a bit of onion...so good they'll think it's homemade. Available in 10.5 oz. bottles. Louisiana products are known for having the best variety in seafood sauces.
Cocktail
---
Cocktail sauce in its simplest form is ketchup mixed with prepared horseradish. In Louisiana oyster bars, cocktail sauce is the standard accompaniment for raw oysters or any boiled seafood. The standard ingredients are ketchup, horseradish, hot sauce, Worcestershire sauce, and lemon juice. Ilove to eat my boiled shrimp and crawfish with a coctail sauce seasoned with Slap Ya Mama Seasoning.

Best Brand
Jack Miller's Cajun Dipping & Cocktail Sauce is a great spicy substitute for ketchup or tomato sauce. It's perfect for shrimp, oysters or crabmeat cocktails. It makes a fantastic dip for boiled shrimp or crawfish.

Remoulade
---
The Louisiana version of remoulade, like the local variants of roux and bordelaise sauce, is quite different from the French original. Invariably, it is red (bright red to ruddy-orange) and is usually very piquant. Louisiana-style remoulades fall generally into one of three categories—those with a mayonnaise base, those with a ketchup base, and those with an oil base. All three versions have an abundance of finely chopped vegetables, usually green onions and celery, and parsley; most are made with Creole mustard. Salt, black pepper, and cayenne pepper are also standard ingredients. In the oil- and mayonnaise-based versions, the reddish hue comes from the addition of paprika. Other popular additions include lemon juice, minced garlic, vinegar, horseradish, and Worcestershire sauce. Remoulade is the creole version of many different seafood sauces.

Best Brand
Zatarain's® Remoulade Sauce This authentic remoulade sauce is a spicy New Orleans sauce with a Creole mustard base (imitations use a mayonnaise base). Mix it cold with boiled shrimp for shrimp remoulade or with crabmeat for crabmeat remoulade. Shrimp Remoulade is a great creole dish.
BBQ Sauce- Jack Miller's
---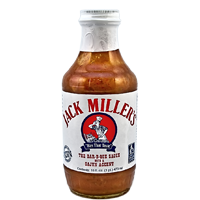 In June of 1941, Jack D. Miller opened the original American Inn Restaurant in Ville Platte, Louisiana. It was here that Jack Miller's Bar-B-Que Sauce was developed for customers. In 1955, the product was placed on the open market in South Louisiana and later in other states.
Jack Miller's Bar-B-Que Sauce is a unique blend of seventeen individual products. The mixture is cooked slowly in our kettles until it becomes the rich, thick, tangy product that has made it so famous in south Louisiana for over four decades. It enhances the flavor of any kind of meat, whether barbecued on an open grill outdoors or cooked in the oven. It can be used in all kinds of recipes or as a condiment for burgers and other sandwiches. .


Looking for a great beef recipe to use your Jack Miller sauce with.