Crawfish Monica
Crawfish Monica is a dish that has become popular due to The New Orleans Jazz and hertiage Festival. The dish was first produced by Kajun Kettle Foods and they decided to distribute it at the Jazz Fest. The demand for the dish had been overwhelming and it's popularity has grown over the years. It is a rather simple recipe that is elegant and fun to make.
Recipe
---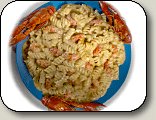 Ingredients
1 lb Louisiana Crawfish tails
1/2 cup butter
1 pint half-and-half
5 garlic cloves, chopped
1/2 bunch parsley
2 tablespoons Slap Ya Mama Creole Seasoning
1 tsp. to taste cayenne pepper
1 lb rotini pasta
1 Loaf Hot French bread

Directions
1. Cook pasta according the the directions on the package. Drain, then rinse under cool water and drain again thoroughly.
2. Melt butter in a large pot and saute onions and garlic and parsley for about 3 minutes.
3. Add the crawfish and saute for about 2 minutes.
4. Add the half-and half and creole seasoning. Add a dash of cayenne pepper and taste before adding more until you have the right amount for you. If you have boiled your own crawfish save the fat and add it in as well.
5. Cook for 5-10 minutes over a medium heat until the sauce thickens.
6. Add the pasta and toss well. Let sit for 10 minutes or so over very low heat stirring often.
7. Serve immediately with lots of french bread.


Submit your Crawfish Monica recipe



Try Crawfish Etouffee