Creole or Cajun Seasoning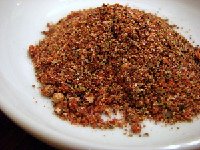 What is the difference?
---
Creole or cajun seasoning, it really does not matter. The seasoning is the same, but just from two different ethnic groups. The seasonings are almost exactly the same and the taste differ slightly. The difference in the food is that Creole has a tomato base to it's flavour. As a practical matter, it appears that any meaningful distinction between Cajun seasoning and Creole seasoning has been lost — the words are used interchangeably or together by marketers trying to create an impression that will tempt you to buy their products and cookbooks and eat in their restaurants.
How to Make
---
Cajun Seasoning Mix A cajun seasoning mix is used in many cajun recipes. It is basically salt with a variety of spices. Below is a seasoning mix recipe if you would like to make your own. Experiment with every batch until you have the spice combination you like.
Ingredients
table salt, 26 oz
cayenne pepper, 5 tbs
black pepper, 3 tbs
onion powder, 3 tbs
garlic powder, 3 tbs
chili powder, 3 tbs
thyme, 1 tbs
sweet basil, 1 tbs
bay leaf, 1 tbs
Mix Seasoning
Add all the seasoning, except salt, in a blender. Cover and blend to a fine consistency. Don't breath the dust - it throws me into a sneezing frenzy ! Mix the blended spices with the salt until you achieve a uniform color. Use as you would salt.
Slap Ya Mama Cajun Seasoning
---
Who is "Slap Ya Mama" "SLAP YA MAMA" Cajun Seasoning really got started by just trying to please our customers. We owned a convenience store at the time and sold food in a deli. Everything was cooked in a broaster; fried chicken, French fries, corn dogs, hot links, etc.
Our customers began complaining that our food was too salty. Well, we were using a seasoning that everybody loved but it was too salty if you wanted to taste a little bit of pepper. So, we decided to make our own seasoning mixture that gave you the spicy Cajun taste without being too salty. We then sat down and mixed until we got it exactly like we wanted it.
Our boys were young and we had them rolling a barrel on the floor to mix our seasoning. We began using the seasoning on the food at the store, and everybody loved it. They wanted to know what we had put on the food. So we told them that we had mixed our own spices to make this seasoning. After that, they wanted to know if they could buy some.
Time went on and everybody really praised our deli food. Some of our friends suggested that we package and sell this wonderful seasoning. Eventually we made some simple little labels, called it "SLAP YA MAMA" Cajun Seasoning, and sold it in our store.
The name of "SLAP YA MAMA" came about when the creator of the seasoning jokingly said, "When you use this seasoning, the food taste so good that it will make you want to go home and slap ya mama because she could never make something taste that great." We couldn't keep enough "SLAP YA MAMA" Cajun Seasoning on the shelves.
So here we are now, and the rest is yet to come.
-The Walkers
Slap Ya Mama's Cajun Seasoning Recipes
Tony Chachere's Creole Seasoning
---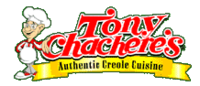 Tony Chachere's refers to the Creole seasoning created by southern Louisiana chef Tony Chachere. Many people refer to the seasoning simply as "Tony's" while others call it "Tony Catchers." The correct pronunciation is "sass-sure-ee's" or "sauce heres." Today, the official name of the seasoning is Tony Chachere's Original Creole Seasoning. Tony Chachere's Creole Foods began in 1972, following the success of Chachere's Cajun Country Cookbook. The company is owned by Tony's remaining descendants and is currently run by Don Chachere (President and CEO), Tony's grandson. The company now offers a variety of cookbooks, seasoning blends, dinner mixes, marinades, sauces, batters, and frozen items that are prepared with Chachere's products.
The company is based in Opelousas (in the heart of Cajun Country), the seat of St. Landry Parish. The Chacheres have called Opelousas home for some generations; Tony Chachere was a pharmaceutical salesman-turned-insurance agent who built a strong regional reputation during the late 20th century for his cooking, including dishes with local seafood and wild game.
The main ingredients in the seasoning are salt (over 30% by weight and red pepper; however, garlic and other spices also contribute to the flavor.
---