Shrimp Po Boy
---
A shrimp po boy is one of my favorite easy to make meals. It is a dish that is available at most New Orleans restaurants. All people have different variations to this great dish. The most popular recipe is the fried po boy. Others love the grilled or bbq shrimp recipe. It only depends on what your tastebuds desire. My favorite is of course the fried version. My grandmother had her own special recipe. It was the way she fried the shrimp that made it so delicious. The main ingredient is of course Louisiana Shrimp. Love a Shrimp Po Boy try other great shrimp recipes




Nana's Recipe
---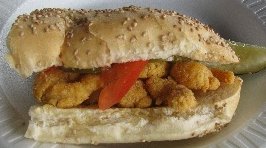 Ingredients
1 pound uncooked large Louisiana shrimp, peeled, deveined
1/2 cup dry Progresso Italian breadcrumbs
1 large egg
2 cups Milk
1 large egg yolk
2 tablespoons chopped fresh parsley
2 tablespoons flour
1 garlic clove, minced
1/8 teaspoon cayenne pepper
Slap ya Mama Creole Seasoning to taste
2 cups corn meal
Peanut oil (for frying)
1 Loaf New Orleans style French Bread
Tartar sauce
Shredded lettuce
Sliced tomato
Tabasco sauce
Blue Plate Mayo


Directions
1.Mix milk with egg; add shrimp and let stand for 3 minutes.
2. Mix equal parts of flour and cornmeal or bread crumbs with salt, pepper, and Slap ya Mama.
3. Coat shrimp well with mixture.
4. Cook shrimp in hot deep fast at 375° until golden brown.
5. Drain on paper towels.
6.Spread french bread with mayonnaise, tabasco sauce, and tartar sauce.
7. Arrange shrimp on french bread; top with tomato slices and lettuce. Serves 6.





Where can you find your favorite Shrimp Po Boy?
Share with us which restaurant has the best shrimp Po boys.!