Shrimp Creole
---
Shrimp creole is a dish of Louisiana origin, consisting of cooked shrimp in a mixture of whole or diced tomatoes, onion, celery and bell pepper, spiced with Tabasco sauce or another hot pepper sauce, and served over steamed or boiled white rice. The shrimp may be cooked in the mixture or cooked separately and added at the end.
The dish is a delicious creole recipe with a cajun flavour. There are many different variations to the recipe. It can be made as spicy as you want it or it can be made with, chicken beef, or no meat at all. It just depends on your taste.
Recipes
---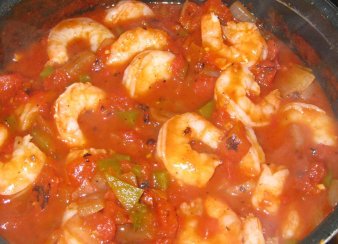 Ingredients
1/4 cup cooking oil
4 Tbsp. flour
1 chopped onion
1/2 tsp. sugar
1/2 cup chopped celery
1/2 cup chopped bell pepper
1 cup green onion tops
2 Tbsp. chopped parsley
1 1/2 lbs. raw Louisiana shrimp
1 (8oz.) can tomato sauce
1 1/2 tsp. salt
1/8 tsp. cayenne pepper
Tabasco sauce to your taste
1 minced garlic clove
Directions
1. Stir oil and flour over low heat to make a roux.
2. Add onion, celery and pepper; cook, stirring for about 5 minutes.
3. Stir in remaining ingredients except shrimp and bring to a boil.
4. Lower heat and cook for 30 minutes, stirring frequently.
5. Add shrimp and bring to a second boil.
6. Reduce heat and cook until shrimp are done.
7. Enjoy.


My Favorite Shrimp Creole Recipe
---
Ingredients
2 lbs. Louisiana Shrimp cleaned
1 Large onion, chopped
1 clove garlic, chopped
5 Tbsp. butter
2 Tbsp. green peppers, chopped
1 Tbsp. Flour
8 Can Tomato Sauce
8 oz. water
1/4 Tsp. thyme
2 Tbsp. Parsley
1 tsp. salt
1/2 tsp. black pepper
dash Slap Ya Mama seasoning
1/2 tsp. lemon juice
1 bay leaf.
Directions
1. Saute onion, garlic, and green peppers in butter for 8 minutes.
2. Blend in flour for one minute.
3. Add shrimp, tomato sauce, water, thyme, parsley, salt, black pepper, slap ya mama seasoning, lemon juice, and bay leaf.
4. Cover and simmer for 30 minutes.
5. Enjoy


Submit your best shrimp creole recipe


More great shrimp recipes