Roast Beef Po Boy
---
New Orleans is known for great Sloppy Roast Beef Po Boys. Some of the best restaurants in New Orleans serve these Po Boys. They consist of Parkway Bakery, Johnny's, Liuzza, Domilese's, and my favorite Cafe Maspero's on Decatur St.
The best Po-Boys consist of a great quality of roast beef cooked or warmed in a delicious cajun brown gravy. The french bread usually Zip, is warmed with a hot center and a crusty top. The po boy is dressed with tons of Blue Plate mayo and finely shredded lettuce, tomato, and most of all cajun brown gravy.


My Favorite Po Boy
---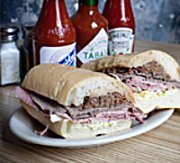 My favorite Po Boy is the Famous Ferdi Special. Mr. Ferdi, a local merchant and regular Mother's patron, probably had nothing more than a meaty sandwich in mind when he asked that some ham be added to his roast beef (or vice versa, the legend is hazy). But word got out and the combo was soon a hit. Voila! – the Ferdi Special was born. The ferdi special consist of Mother's best baked ham, roast beef, Debris, and gravy. I love it with some shredded cabbage that is known as a speciality at Mothers. What is debris roast beef po boy?

Other great Po boys








Where did you find the best Roast Beef Po Boy?
Tell us where is the best Roast Beef Po Boy.