Pralines
---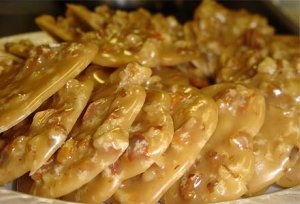 History
Pralines were inspired by the French whose early treats were whole almonds individually coated in caramelized sugar, as opposed to dark nougat, where a sheet of caramelized sugar covers many nuts.
The powder made by grinding up such sugar-coated nuts is called pralin, and is an ingredient in many cakes, pastries, and ice creams. When this powder is mixed with chocolate it becomes the candy. Outside of the United States, it is used to mean this powder.
Creole Recipe
---
Ingredients
2 cups sugar
1 cup brown sugar
1 stick butter
1 cup milk
2 tablespoons Karo syrup
4 cups pecan halves

Directions
1. Put all ingredients except pecans in 3-quart saucepan and cook for about 20 minutes after boiling starts, stirring occasionally.
2. Add the pecans and cook the mixture to soft ball stage.
3. Stir well and then drop by spoonful on waxed paper. Place a few sheets newspaper beneath the waxed paper.
4. Let sit until hardens.

Give us your best Pralines Recipe

Try Some Other Great Louisiana Foods