Muffuletta
---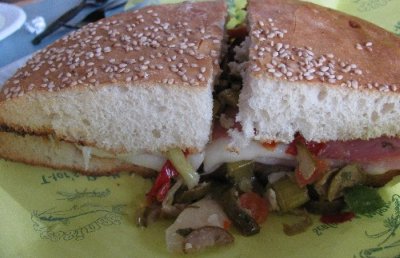 Although the muffuletta, pronounced "moo-foo-LET-ta", ia not a po boy it is a great sandwich that originated in New Orleans. It is a delicious round sandwich that mixes together the creole and Italian cultures to form a delicious sandwich.
The bread is a large, round, and somewhat flattened loaf with a sturdy texture, around 10 inches across, it is also covered in sesame seeds.
New Orleans Recipe
A traditional New Orleans recipe consists of one loaf, split horizontally. The loaf is then covered with a marinated olive salad, then layers of ham, salami, mortadella, and provolone. The sandwich is sometimes heated through to soften the provolone. The size of the is enough to feed more than one person, and many stores sell quarter or half-size sandwiches.
The olive salad consists primarily of olives, along with celery, cauliflower and carrot. The ingredients are combined, seasonings are added, covered in olive oil and allowed to combine for at least 24 hours. Prepared olive salad can also be bought by the jar.


Sandwich Ingredients
1 round loaf italian bread
1/4 pound mortadella, thinly sliced
1/4 pound Chisesi ham, thinly sliced
1/4 pound hard salami, thinly sliced
1/4 pound Mozzarella cheese, sliced
1/4 pound Provolone cheese,sliced
1 cup Progressive olive salad with oil

Olive Salad
1 gallon large pimento stuffed green olives, slightly crushed and well drained
1 quart jar pickled cauliflower, drained and sliced
2 small jars capers, drained
1 whole stalk celery, sliced diagonally
4 large carrots, peeled and thinly sliced diagonally
1 small jar celery seeds
1 small jar oregano
1 large head fresh garlic, peeled and minced
1 teaspoon freshly ground black pepper
1 jar pepperoncini, drained (small salad peppers) left whole
1 pound large Greek black olives
1 jar cocktail onions, drained

Do you love a muffuletta? Try some other po boy recpies.
History
The sandwich had its origins at Central Grocery, in the French Quarter of New Orleans. Below is a excerpt from Marie's Melting Pot, the 1980 cookbook by Marie Lupo Tusa, daughter of Central Grocery's founder, which traced the origin of the sandwich:
One of the most interesting aspects of my father's grocery is his unique creation, the muffuletta sandwich. It was created in the early 1900's when the Farmers' Market was in the same area as the grocery. Most of the farmers who sold their produce there were Sicilian. Every day they used to come of my father's grocery for lunch. They would order some salami, some ham, a piece of cheese, a little olive salad, and either long braided Italian bread or round muffuletta bread. In typical Sicilian fashion they ate everything separately. The farmers used to sit on crates or barrels and try to eat while precariously balancing their small trays covered with food on their knees. My father suggested that it would be easier for the farmers if he cut the bread and put everything on it like a sandwich; even if it was not typical Sicilian fashion. He experimented and found that the thicker, braided Italian bread was too hard to bite but the softer round muffuletta was ideal for his sandwich. In very little time, the farmers came to merely ask for a "muffuletta" for their lunch.
Best Muffaletta
Where did you find the best muffuletta?