Crawfish Pie
---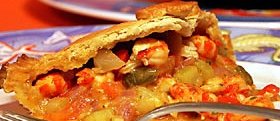 Crawfish Pie is not a dessert, it is a delicious meal that is made from the best Louisiana Crawfish. The only reason it is actually called a pie is due to the fact that it is baked in a pie pan. The recipe has a cajun flavour that can be a little spicy. The recipe can be adjusted to a milder version. The below recipe was from my grandmother, it is over 50 years old. I hope you enjoy it as much as we do.


Nana's recipe
---
Ingredients
1 stick of butter
1/4 cup flour
1/8 tsp. cayenne pepper
1/4 cup whipping cream
1 cup chopped onions
1/2 cup chopped shallots
2 tsp chopped garlic
1 tsp. salt
3/4 tsp. pepper
2 T. celery, chopped
1 lb. Louisiana Crawfish Tails
3 T. parsley, chopped
1/2 cup bell pepper, chopped
1-9 inch pie crust
Directions
1. Melt butter over low heat, add flour, cook slowly stirring constantly into light golden roux form.
2. Add onions, garlic, bell pepper, parsley, celery, and shallots. Cook until soft.
3. Add seasoning and whipped cream. Mix over very low heat.
4. Add crawfish tails and cook 5-7 minutes. Put in crust.
5. Bake at 350 degrees for 20-25 minutes or until golden brown.
6. Enjoy.
Submit your favorite Crawfish pie recipe

Try some Louisiana shrimp recipes

Order your fresh seafood delivered anywhere in the USA