Crawfish Bread
---
Crawfish bread was made famous by the New Orleans Jazz and Heriage Festival. As great as the music at the fest is most people attend to taste the great food. There is no other speciality at the Jazz Fest that can match the crawfish bread. the line ta the booth is always the longest and you can smell the bread from a mile away. Below is the exact recipe from the Jazz Fest;


Jazz Fest Recipe
---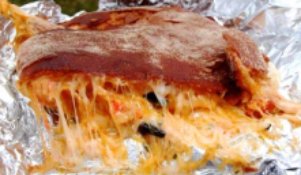 Ingredients
1 stick butter, softened 1/2 cup chopped onions
1/2 cup chopped bell pepper
1/4 cup chopped celery
1/4 cup dry white wine
1 cup chicken broth or clam juice
1/3 cup prepared roux 1/8 tsp. dried thyme
1/8 tsp. sweet basil
2 bay leaves
2 Tbsp. minced garlic
2 lbs. Louisiana crawfish tails with fat
1/2 cup ripe tomatoes, finely diced
1 can Campbell's Cream of Shrimp Soup
1/4 cup chopped parsley
1/3 cup sliced green onions
1/2 tsp. Creole Seafood Seasoning
1 tsp. salt (if needed)
8 ounces shredded Colby
8 ounces shredded Monterey Jack
1 cup grated Parmesan
4 loaves French bread "Twin Shorties


Directions
1. In a large heavy skillet, melt the butter and heat it until it bubbles. Then lower the heat and add the chopped onions, bell pepper, and celery.
2. Sauté the mixture until the veggies turn limp, but do not let them brown (figure that it should take about three minutes).
3. Next add the wine to the seasoning base and bring it to a boil.
4. Then, after about a minute, pour in the clam juice and add to it the prepared roux, thyme, bay leaves, and garlic.
5. At this point, return the mixture to a boil once again but immediately lower the heat and simmer everything together for about five minutes more or until thickened.
6.Now add the crawfish tails, diced tomatoes, cream of shrimp soup, parsley, green onions, seafood seasoning, and salt (if needed).
7. When everything is thoroughly combined, simmer the skillet for about 8 to 10 minutes or until you can pick up the sauce with a fork.
8. All that's left to do is to slice the loaves of bread lengthwise and sprinkle each half with a thin but complete layer of cheese.
9. Then place the bread onto a sheet pan and slide it under a hot broiler or toaster oven until the cheese fully melts.
10. Finally, take the bread halves out of the oven, generously spoon the crawfish sauce down the center of each loaf, then top them liberally with a sprinkling of Parmesan cheese.
11. Return the Crawfish Bread to the oven one more time, but only until the sauce begins to bubble.
12. Then slice the "breads" into appropriate individual portions and serve the pieces piping hot.
Is Crawfish Bread your favorite dish? Let us know.

More great seafood recipes