Crab Boil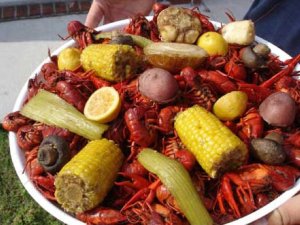 Crab boil usually refers to a spice mixture that is used to flavor the water in which crabs or other shellfish are boiled.
Boiled seafood in southern Louisiana tends to be spicier than that found in other parts of the country. Homemade recipes call for abundant amounts of hot sauce, cayenne pepper, salt, bay leaf, lemon, and garlic. Mustard seeds, coriander seeds, and allspice are popular extra options. Many people will start with a commercial product and then supplement it with extra pepper. The leading commercial product is Zatarain's which comes in two forms. One is a mesh bag with seasonings inside. The second is a liquid concentrate that can be added directly to the water. The concentrate form can also be used as a flavor enhancer for soups. Other regional seasoning companies are Tony Chachere's, Rex, Cajunland, Louisiana, and Slap Ya Mama.
How to Make
---
2 teaspoons each of black peppercorn
4 tablespoons yellow mustard seeds
3 tablespoons coriander seeds
2 tablespoons whole allspice
2 tablespoons dill seeds
1 teaspoon whole cloves
1 tablespoon crushed red pepper
8 bay leaves
Salt and cayenne pepper (or liquid hot sauce) to taste

As a cooking technique, a crab boil involves adding seasonings to a boiling pot of water and then inserting crabs,crawfish, or shrimp to cook. Typically, the seasoning is spicy, and the seafood may be served with an array of spicy sauces. Most events also include vegetables or sausages added to the pot.
My Favorite Recipe
---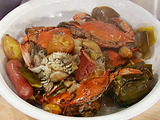 Firehouse Crab Boil Recipe from Emeril Lagasse
Ingredients
3 to 4 cups crawfish, shrimp and seasoning (recommended: Zatarain's powdered form, NOT liquid or bag versions)
3 lemons, halved
2 or 3 large onions, halved
5 heads garlic, cut in 1/2 crosswise
2 dozen live blue crabs
6 pounds new potatoes
4 ears fresh corn, shucked, silk removed and cut in 1/2
3 artichokes, stem end trimmed cut into halves or quarters
2 pounds smoked sausage
1 package hotdogs
1 pound mushrooms
Directions
One day before you plan to boil the crabs: If you have a heatproof, submergible vessel that will hold 1 or 2 gallons of water that may be frozen, fill these with water and freeze until frozen solid.
In a very large (40 to 60-quart) pot combine the crab boil, lemons, onions, garlic, and 6 gallons of water and heat over high heat, stirring, until the powdered seasoning has dissolved. Add the crabs, potatoes, corn, artichokes, smoked sausage and hotdogs. (Everything should be submerged in liquid - if not, add a bit more water to cover.) Cover the pot and bring to a boil. Cook at a rolling boil for 6 minutes. Turn off the heat and add the mushrooms. Cover the pot and let sit for 15 to 20 minutes.
Add the frozen vessels to the hot crab boil and stir occasionally very gently to facilitate even cooling. This will prevent the crabs from overcooking and will also force them to absorb the seasoning from the crab boil. Let the crabs sit in the water for at least 1 hour before serving. You can let the crabs sit until completely cool, if desired, or you can serve the crabs warm.
Using tongs or strainers, carefully remove the crabs from the pot along with the onions, garlic, potatoes, corn, artichokes, sausage, hotdogs, and mushrooms and spread out on large platters or on newspaper lined tables for folks to enjoy.
Best Brands
---

Zatarain's® Crawfish, Shrimp & Crab Boil Complete The product to use to boil a sack of crawfish (about 40 pounds). Zatarain's sack size crab boil has all the spices and seasonings you need to boil a perfect sack. It also comes in the hotter Pro Boil and Extra Spicy. The most popular brand on the market. To learn more about Zatarains Crab Boil.


Cajun Land® Crab Boil with Lemon is a ground version of the traditional whole crab boils used in Louisiana. This is a delicious recipe that will enhance the natural flavor of your favorite seafood. It has a great falavor and is prefeered as a less spicy version. It you are looking for a good flavor than Cajunland is the way to go.


LOUISIANA Fish Fry Proudcts® Crawfish Crab & Shrimp Boil Nothing to mix. Just pour and boil. Also great for steaming. Boils 1 sack of crawfish "Real Spicy!" Louisiana is very spicy. I found that it i sbest to mix the Cajun Land and the Louisiana which makes a great seasoning.


Slap Ya Mama Seafood Boil is a unique blend of spices that will add that great Cajun flavor to any boiled dish. Just pour in and boil. Slap Ya Mama® Seafood Boil is sold only in 4lbs bags. Each bag will season 40 - 50 lbs. of crawfish or shrimp, or 4 - 5 dozen crabs. It may also be used to boil lobsters, onions, sausage, potatoes, mushrooms, corn on the cob and much more. And like all of our products, it has no MSG. In 1956, Wilda Marie Fontenot gave birth to the creator of this award winning seasoning blend. Every time she uses it, she receives a loving slap on the back and a kiss on the cheek thanking her for another great Cajun dish.




Louisiana Seafood-Nothing but the best