Louisiana Made Condiments
Louisiana condiments have a very different taste than other brands. Our mayonnaise has a taste that only Louisianans love. Blue Plate Mayonnaise has been made in New Orleans for over 80 years. It has an incredible 85% market share in Louisiana. It just goes to show that we support and love our local companies. They are used complement all of our recipes. We only use Louisiana products. It our way of life. Mayonnaise, mustard and sugar are the top two condiments that are produced in Louisiana.
Sugar
---
Sugar is an informal term for a class of edible crystalline substances, mainly sucrose, lactose, and fructose characterized by a sweet flavor. In food, sugar almost exclusively refers to sucrose, which primarily comes from sugar cane and sugar beet.
Of the domestic sugar industries, Louisiana has the oldest and most historic. Sugarcane arrived in Louisiana with the Jesuit priests in 1751 and, in 1795, Etienne deBore granulated sugar on a commercial scale at Audubon Park in New Orleans. The Louisiana sugarcane industry is in its third century of existence, having celebrated its 200th year of continuous sugar production in 1995.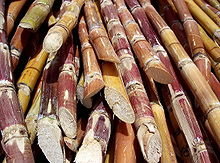 Sugarcane is produced on more than 450,000 acres of land in 25 of the 64 Louisiana parishes. In 1999, total production of 15,982,000 tons of sugarcane yielded 1,675,000 tons of sugar. Growers averaged 37 tons of sugarcane and 7,800 pounds of sugar per acre, both new state records. The value of this sugar to farmers, factories and landlords exceeded $740 million, although the direct economic value generated from the crop exceeded $2 billion. Sugarcane ranks first in the state among plant commodities, which also include rice, soybeans, corn and cotton. Louisiana produces about 16 percent of the total sugar grown in the United States (includes both sugar from sugar beet and sugarcane). Approximately 32,000 people are employed in the production of sugar in Louisiana on 690 farms and in 18 factories.


Mayonnaise
Mayonnaise (mayo) is an emulsion of oil, vinegar and lemon juice, often with herbs and spices. It is cream or white, with texture from light cream to jelly. Mayonnaise is made by slowly adding oil to an egg yolk, while whisking vigorously to disperse the oil. The oil and the water in yolks form a base of the emulsion, while the lecithin from the yolks is the emulsifier that stabilizes it. Additionally, a bit of a mustard may also be added to sharpen its taste, and further stabilize the emulsion. Mustard contains small amounts of lecithin. It is a process that requires watching; if the liquid starts to separate and look like pack-ice, or curd, it simply requires starting again with an egg yolk, whisk it, slowly add the curd while whisking, and it will emulsify to be mayonnaise.
Blue Plate Mayo
---

Blue Plate Mayonnaise has been a southern tradition since 1927. This Mayo is a delicious solution for more than just sandwiches! Its rich taste and thick, creamy texture makes it ideal for salads, dips, dressings, and sauces too.
Made with the freshest eggs and finest oils, you will get all the taste you would expect from a premium mayonnaise, and its unyielding thickness and body hold together superbly in all of your recipes. Louisiana condiments are the worth trying.




Louisiana Condiments can complement any boiled seafood dish.