Chicken Andouille Gumbo
---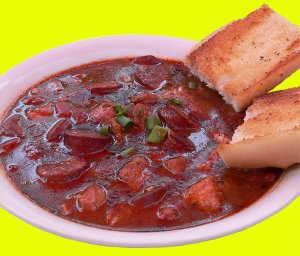 Chicken Andouille Gumbo
1-3 LBS. CHICKEN
1 LB. JACOB'S ANDOUILLE
1/4 CUP OIL
1 PACKAGE JACOB'S COUNTRY ROUX MIX
2 DOZ. RAW OYSTERS (OPTIONAL)
2 TBSP. WORCESTERSHIRE SAUCE
In an 8 quart pot precook chicken and andouille in oil. Add 3½ quarts hot water and bring to a boil. Add dry seasonings and spice packs (use spice pack to taste). Mix roux in 8 oz. hot tap water and add to pot. Add worcestershire sauce and cook uncovered on medium for 45 minutes. If using oysters, add during last 15 minutes. Skim oil and add more seasoning and/or filé if desired. Serve over rice.
Variation: Debone 2 smoked chickens, put chicken meat and sliced andouille in pot, add about 3½ quarts of water to pot and bring to a boil, add in the roux mix and seasoning packs to taste, let simmer for about 45 minutes.
Jacob's Andouille Shop


---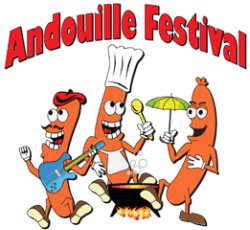 Southern Living Chicken Andouille Gumbo Recipe
Ingredients
1 1/2 gallons water
1 (4-pound) chicken, cut up
5 bay leaves
5 parsley sprigs
3 whole garlic cloves
1 pound andouille or smoked sausage, diced
2 medium onions, chopped
1 large green bell pepper, chopped
1 large celery rib, chopped
3 tablespoons minced garlic
4 chicken bouillon cubes
1 1/4 cups vegetable oil
1 1/2 cups all-purpose flour
1 tablespoon salt
1 teaspoon ground red pepper
1 teaspoon ground black pepper
1 bunch green onions, chopped
1/2 cup chopped fresh parsley
1/2 teaspoon filé powder
Hot cooked rice Preparationfor Chicken Andouille Gumbo Bring first 5 ingredients to a boil in a large stockpot; cover, reduce heat, and simmer 1 hour. Remove chicken, reserving broth. Skin, bone, and coarsely chop chicken; set aside. Pour broth through a wire-mesh strainer into a large bowl, discarding solids. Measure 1 gallon broth, and return to stockpot. Add sausage and next 5 ingredients; simmer, stirring occasionally, 1 hour.
Heat oil in a heavy skillet over medium heat; gradually whisk in flour, and cook, whisking constantly, until flour is a dark caramel color (about 20 minutes). Stir into sausage mixture, and simmer, stirring occasionally, 1 hour. Stir in chicken, salt, and red and black pepper; simmer, stirring occasionally, 45 minutes. Skim off fat.
Stir in green onions and parsley; simmer, stirring occasionally, 10 minutes. Remove from heat, and stir in filé powder. Serve over hot cooked rice with hot sauce, if desired.
If you love Chicken Andouille Gumbo check out these other gumbo recipes.


To Submit a Recipe.