Cayenne Pepper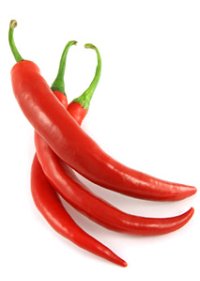 The cayenne pepper -- also known as the Guinea spice, aleva or bird pepper or, especially in its powdered form, red pepper -- is a hot, red chili pepper used to flavor dishes and for medicinal purposes. Named for the city of Cayenne in French Guiana, it is a cultivar of Capsicum annuum related to bell peppers, jalapeños, and others.

Louisiana chefs have used it for decades to season their recipes. It is mostly used to season seafood. Wheter, it is shrimp, crabs, crawfish, or blackened fish. The most popular recipe that uses the pepper is crab boil. I personally use it in my recipe for crawfish. I use mixture of Zatarain's and Louisiana crab boil then I add a 8 oz. jar of the pepper. It adds just the right amount of spice that my family loves. It can be used to add spice to any recipe. Just be careful it is HOT.
Health Benefits
---
The health benefits of it are unbelieveable, but it's reputation keeps growing among medical researchers as well as alternative health professionals. It can do everything from kill cancer cells in the prostate, lungs, and pancreas to immediately stop a heart attack within 30 seconds.
Let's get into some of the specifics of it's benefits. It increases metabolism by immediately influencing the venous structure. It is nothing short of amazing with its effects on the circulatory system as it feeds the vital elements into the cell structure of capillaries, veins, arteries and helps adjust blood pressure to normal levels.
High blood pressure is certainly one of its core uses, but it also cleans the arteries as well, helping to rid the body of the bad LDL cholesterol and triglycerides.
It is also great for the stomach and the intestinal tract. It stimulates the peristaltic motion of the intestines and aids in assimilation and elimination. When taken internally, it warms the body and has even been used by some herbalist doctors to help heal and rebuild flesh due to frostbite.
Cayenne Pepper can also be used as a great diet tool.
Best Brands
---

Cajun Chef® Extra Hot Pepper ( This is a very fine ground powder that gives cayenne its characteristic hot, biting flavor. It is widely used a seasoning (in small amount), for example in savory biscuits and cheese, egg dishes, and soups for a spicy bite.


REX® Seasoning will jazz up any dish! Just adding a little adds an extra kick of flavor and an energetic color to your favorite recipes.Gluten-FreeNo Added MSG



Zatarain's- This is the hot stuff. It is what gives most Louisiana dishes their characteristic bite. What most people don't know is that this is a Spanish influence that was adopted by the Cajuns when they migrated to Louisiana from Canada.




Learn How to Boil Crawfish with Cayenne


---