Cajun Jambalaya Recipe
---
Our family has a very specific cajun jambalaya recipe, but it varies depending on who in the family is making the dish. Below is the recipe that is actually written on paper: It you want a spicier jambalaya just add more season.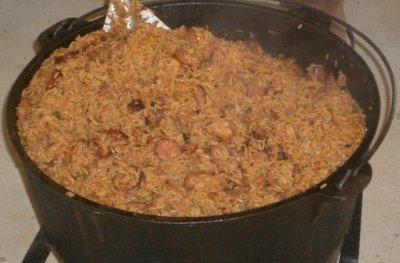 Cajun Jambalaya Recipe
Ingredients:
•1 TBsp oil (olive oil is a good choice, because it does not overpower other flavors)
•3/4 lb. andouille or kielbasa sausage
•3/4 lb. boneless, skinless chicken
•2 cups water
•1 cup mild salsa (use hotter if you do like spicy foods)
•1 cup instant rice (don't cook it – just put it in raw)
•1 bay leaf
•1/2 tsp. thyme
•1/2 tsp. garlic powder or salt
•1/8 tsp. cayenne pepper (more if you like spicy foods)
•1 tsp. Worcestershire sauce
•1/2 lb. uncooked medium shrimp (remove jackets but leave on tails)
•1/2 cup parsley (fresh or flakes)
•1/2 tsp. sal Directions:
1.Put oil in large heavy stock pot with lid or Dutch oven and heat to medium hot. Then, add oil and let it heat for a minute or so.
2.Slice the sausage into circles about as thick as a domino. Add to oil in pot and stir until meat is nicely browned. Use a slotted spoon to remove sausage and set aside.
3.Chop chicken into bite sized pieces and add to hot oil. Stir and cook until white on the outside. This takes about 2 minutes.
4.Crank the heat on up to high and add the water, salsa, rice, bay leaf, thyme, garlic, cayenne, and Worcestershire sauce.
5.Stir well and bring to a boil. Add tight fitting lid and simmer about 15 minutes until the mixture is not runny. It should be moist but not watery.
6.Put the shrimp and sausage in the rice mixture. Put cover back on and cook 3 to 5 minutes or until the shrimp is cooked. The shrimp will look orange-ish when done. Time can vary a little depending on the heat of your stove burner and the size of the shrimp.
7.Remove from heat.
8.Add the parsley and salt and stir.
9.Let rest with the lid on for around 15 minutes so that the flavor have time to meld.
10. Hope you enjoy this cajun Jambalaya recipe
Hot and Spicy Cajun Jambalaya Recipe
---
Ingredients
•4 boneless chicken breasts
•1 pound Mathernes Sausage
•2 tablespoons oil
•3 cloves garlic, crushed
•1 cup chopped celery
•1 green bell pepper, chopped
•1 onion, chopped
•3 tomatoes, diced
•1 large can Rotel tomatoes
•1 bay leaf
•1 pound shrimp, shelled and deveined
•1 teaspoon thyme
•1 teaspoon cayenne pepper
•2 teaspoons sugar
•1 teaspoon black pepper
•1½ cups chicken broth
•4 cups cooked rice, cooled
Directions
Cut up chicken into bite-sized pieces. Slice Mathernes sausage into coins. Pour oil into large stock pot, turn heat to medium and place chicken pieces and kielbasa into pot. Cook, stirring often, until chicken is just cooked through. Add garlic, celery, peppers and onions and continue to cook until onions begin to be transparent. Add rotel tomatoes, canned tomatoes, bay leaf, thyme, cayenne, sugar, black pepper and chicken broth. Simmer for 40 minutes. Add shrimp and continue to simmer until shrimp turns pink. Add rice just before serving.
If you love our cajun Jambalaya Recipe try some of these other jambalaya recipes.


More Great Recipes from Louisiana Tastebuds


To Submit your Own Recipe


To find all your ingredients for your recipe.