Bread Pudding
Bread pudding is a great dessert popular in Louisiana Creole and Cajun country. The French brought the recipe to Louisiana and refer to it by the English name "pudding" without the word "bread". It is made using stale bread, egg, sugar or golden syrup, spices such as cinnamon, nutmeg, mace or vanilla, and dried fruit.
The bread is soaked (often overnight), squeezed dry, and mixed with the other ingredients. The mixture is transferred into a dish and baked.
It may be served with a sweet sauce of some sort, such as whiskey sauce, rum sauce, or caramel sauce, but is typically sprinkled with sugar and eaten cold in squares or slices.

The New Orleans style has a taste all it owns. Each family recipe has a different variation and flavour. The bread is the main ingredient that will cause a change to the flavour. Almost any bread can be used along with milk, fruit cocktail, cinnamon and any other spices that you desire. My favorite kind is actually made from stale donuts. It adds a great sweet flavour to the recipe. The last ingredient is to pour condense milk on top as soon as it is taken out of the oven. Below is a great family recipe that I have been using for years.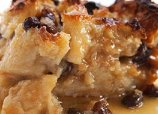 Recipe
---
Ingredients
Rum Sauce:
1/2 cup (1 stick) butter, melted
1 cup sugar
1 egg
1 cup Banana Rum
Bread Pudding
1 loaf French bread, at least a day old, cut into 1-inch squares (about 6-7 cups)
1 qt milk
3 eggs, lightly beaten
2 cups sugar
2 Tbsp vanilla
1 cup fruit cocktail
1/4 teaspoon allspice
1/4 to 1/2 teaspoon cinnamon
3 Tbsp unsalted butter, melted



Directions
Rum Sauce
1. In a saucepan, melt butter; add sugar and egg, whisking to blend well.
2. Cook over low heat, stirring constantly, until mixture thickens. (Do not allow to simmer, or it may curdle.)
3. Whisk in rum to taste. Remove from heat. Whisk before serving. The sauce should be soft, creamy, and smooth.
Bread Pudding:
1 Preheat oven to 350°F.
2 Soak the bread in milk in a large mixing bowl. Press with hands until well mixed and all the milk is absorbed. In a separate bowl, beat eggs, sugar, vanilla, and spices together. Gently stir into the bread mixture. Gently stir the fruit cocktail into the mixture.
3 Pour butter into the bottom of a baking pan. Coat the bottom and the sides of the pan well with the butter. Pour in the bread mix and bake at 350°F for 35-45 minutes, until set. The pudding is done when the edges start getting a bit brown and pull away from the edge of the pan. Can also make in individual ramekins.
Serve with rum sauce on the side; pour on to taste. Best fresh and eaten the day it is made. Makes 8-10 servings.



Give us your favorite Bread pudding recipe.