Beignets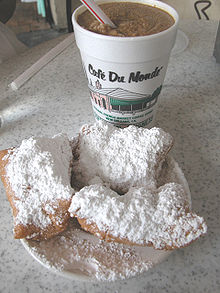 Beignets in Louisiana are a pastry made from deep-fried dough, much like a doughnut, and sprinkled with powdered sugar, or frostings. Savory versions are also popular as an appetizer, with fillings such as maple or fruit preserves.


They were brought to Louisiana by the Acadians. These were fried fritters, sometimes filled with fruit. Today, they are a square piece of dough, fried and covered with powdered sugar. They are served in orders of three. The best place to get some with cafe au lait is Cafe Du' Monde. They are known worldwide and tourists come from all over the world to experience the best.

Where to find the best beignets?
Recipe
Ingredients
2 1/4 teaspoons active dry yeast
1 1/2 cups warm water (110 degrees F/45 degrees C)
1/2 cup sugar
1 teaspoon salt
2 eggs
1 cup evaporated milk
7 cups all-purpose flour
1/4 cup shortening
1 quart vegetable oil for frying
1/4 cup powdered sugar

Directions
1.In a large bowl, dissolve yeast in warm water. Add sugar, salt, eggs, evaporated milk, and blend well.
2.Mix in 4 cups of the flour and beat until smooth. Add the shortening, and then the remaining 3 cups of flour. Cover and chill for up to 24 hours.
3.Roll out dough 1/8 inch thick. Cut into 2 1/2 inch squares. Fry in 360 degree F (180 degrees C) hot oil. If they do not pop up, oil is not hot enough.
4. Drain onto paper towels.
5. Shake confectioners' sugar on while hot. Serve warm.

Are You Interested in Building Your Own Website???