BBQ Shrimp
---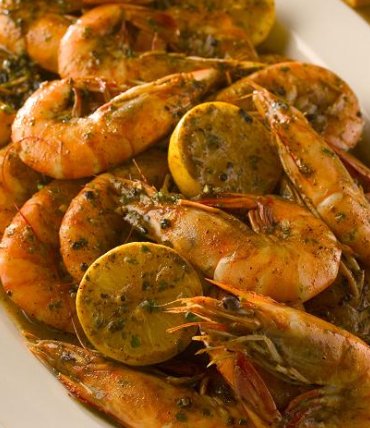 BBQ shrimp is my favorite seafood dish. I can smell the garlic butter sauce just thinking about it. The sauce actually brings out the taste in the shrimp. My wife's recipe is the best in the world. I will put her recipe up against any restaurant. One of the best parts of the recipe is being able to suck up the sauce with some hot french bread. If you have never tied this recipe, you are missing out on one of lives great pleasures.




Angela's Recipe
---
Ingredients
8 lbs. large Louisiana shrimp, unpeeled with head-on
1/2 butter
1 cup olive oil
3 Tbsp. worcestershire sauce
3 Tbsp. liquid crab boil
2 lemons, sliced
3 Tbsp. lemon juice
4 cloves garlic, chopped
1 Tbsp. parsley, chopped
2 tsp. paprika
2 tsp. oregano
2 tsp. red pepper
2 tsp. rosemary
1 tsp. tabasco sauce
3 Tbsp. liquid smoke


Directions
1. Wash Shrimp. Spread out in shallow pan.
2. Combine ingredients in sauce pan over low heat and pour over shrimp.
3. Refrigerate and let soak for 30 minutes. Stir the shrimp every 5 minutes.
4. Bake at 300 degrees for 30 minutes turning shrimp every 10 minutes.
5. Serve in big bowl.
6. Have Hot french Bread to dip in sauce.
7. Enjoy


If you love BBQ Shrimp- Try some of our other recipes.


Share with us your best family recipe.
Please share with all of us your best family recipes. These are the dishes that makes yur mouth water.